As the UAE real estate market keeps experiencing a meteoric growth, there are more opportunities for sellers. If you want to sell your property in the UAE, you are probably questioning whether you should hire a real estate agent or sell it yourself. Due to the multiple skills and knowledge of the agents, you can get leads that lead to satisfactory sales results.
In this article, we will explore why you need to consider the services of a UAE estate agent and how to choose the right one. Several advantages come along with selling your property through an agent.
1. Benefits of selling property using a real estate agent in the UAE
2. Factors to consider when choosing a real estate agent in Dubai
3. Work with a real estate agent or sell your property on your own?
4. Types of transactions in which land real estate agents specialize
5. How does the typical land real estate agent commission on land sales works?
6. Why is it the home selling process faster using only one residential real estate agent?
7. How can we help you sell a property through a real estate agent in Dubai?
1. Benefits of selling property using a real estate agent in the UAE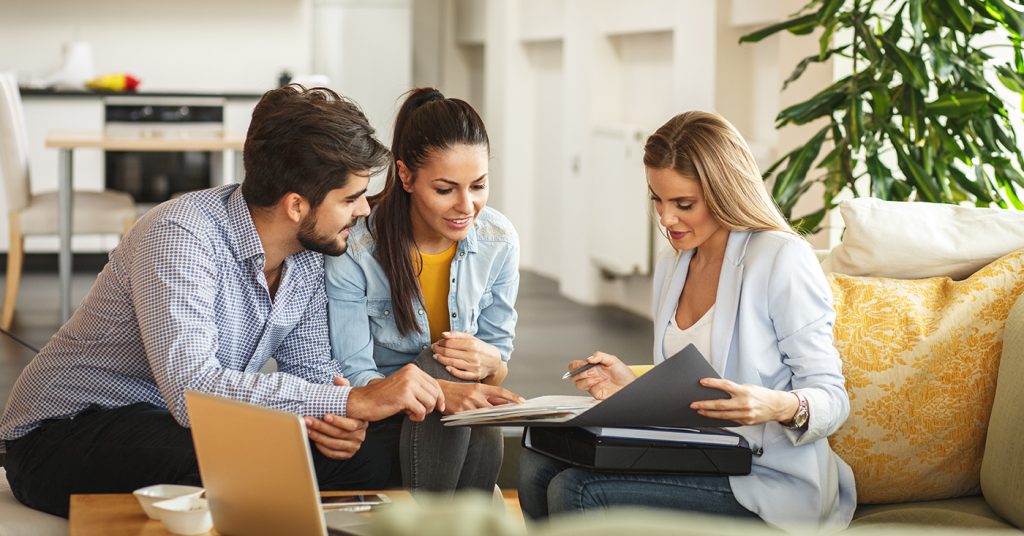 The procedure to sell a property in the UAE demands a lot of time and dedication. The owner will also have to deal with all the parties involved. You have to analyze if you have what it takes to handle such a significant transaction in your life alone. However, with the support of a real estate agent, you can make the process easier. In the same way, you can save time and money and anticipate great sales results. These are some of the benefits you can obtain if you sell a home through an agent in the UAE.
1.1. Avoid a long and arduous selling process
From the moment you decide on selling your property until the final closing, several critical steps need to happen to complete the transaction. In many cases, home sellers do not realize all the details that go into the process. For instance, setting the initial price is complicated, and various factors influence it. Working with a real estate agent makes these complex parts flow smoothly.
1.2. Bring a human touch to the operation
The up-to-date real estate management has different selling strategies such as 3D virtual tours, instant communication, and intangible off-plan developments. However, the customer service skills of a professional agent remain relevant still. They will guide through the whole process, give reviews constantly and handle the negotiations. Besides, the estate agent employing various means allows you to find prospective buyers at an ease.
1.3. Administration of legal formalities
The role of an agent includes knowing the laws that govern equally for sellers and buyers in the UAE. If the legal paperwork is completed incorrectly, the seller can face the risk of fraud and breach of contract. Land real estate agents assist projects and assure they run efficiently in a legal sense.
2. Factors to consider when choosing a real estate agent in Dubai
The experience of selling a property relies mostly on the qualities of the estate agent. When looking for a real estate agent in Dubai or any other city, you have to do your research. You will have to pay special attention in regards to the selection as not all the agents work in the same way.
In your first meeting with the agent, do not hesitate on asking questions. For this reason, you should have prepared beforehand a list of questions based on aspects suchlike their work procedure, experience, and sales history. The conversation does not need to be informal but rather an employment interview. Where you will be the hiring manager and the real estate agents are the applicants.
Another factor that will help you decide is the past clients' experiences with the estate agent. You can ask them and they will hand you the written references of former clients. When you contact them, remember asking if they would hire the broker again. In this way, their answers will reveal a lot about the real estate agent services.
Moreover, a key factor to consider when choosing an estate agent in Dubai is that they are registered and understand the legal terms involved in the transaction. Accordingly, you can ensure that you do not become a victim of fraud. A reliable agent will always be disposed to clarify any doubts regarding the home selling legal process. In addition, another vital factor is the price. Make sure that you save a considerable amount of money in case of future investments. In such a way, you have to understand that a high price does not guarantee an excellent real estate agent.
3. Work with a real estate agent or sell your property on your own?
For sale by owner (FSBO) refers to homeowners that sell their properties themselves instead of getting the support of a residential real estate agent. It might seem like a great way to save on real estate charges, but it is certainly not better than using an agent. Thereby, here are some of the reasons why you should choose an estate agent over selling a house on your own:
3.1. For sale by owner can cost even more
It is common for sellers to miscalculate taxes, fees, and mortgage requirements that go into a property sale. Having a reputable agent on your side to determine your position and answer your questions guarantee this does not happen.
3.2. Agents avoid emotional sales
The home selling process is highly emotional. Working with a real estate agent is less likely for the homeowner to make irrational decisions. For instance, overpricing your property or refusing to counter a lower price because the owner is offended.
If you do not use an agent, you will also have to deal directly with the constant rejection of clients not interested. On the contrary, an estate agent can put a positive spin on negative feedback.
3.3. Weeding out unqualified buyers
A real estate agent can easily notice if someone is a qualified buyer. Since showing your property takes time and dedication, they limit the hassle of making your home stand out to the ones who probably result in a sale. They are trained to ask questions to determine the qualification, interest, and seriousness of a prospect buyer. It is usual for FSBO sellers to lack this training and skill.
4. Types of transactions in which land real estate agents specialize
There are numerous types of transactions that land real estate agents can specialize in. The place of employment determines which class of projects agents work on. Besides, each transaction is different and demands a unique set of skills.
When a client needs to sell either a farm or ranches, the agent needs to do their research. This way, they can determine the value of the property. Therefore, they will inform the client about factors such as the weather cycles, water rights, crop rotation, and over-grazing.
In the same manner, there are land real estate agents specialized in the subdivision and lot wholesaling. Their clients prefer purchasing an undeveloped tract, acquiring the approvals, and installing utilities and other infrastructure. Then, the agents need to find qualified potential buyers to sell wholesale lots.
In general, the buyers are builders requiring it for the construction of houses or commercial properties. For this reason, this type of agent has commercial and residential expertise and skills in marketing to builders.
Moreover, there is a highly specialized niche for site location and assembling parcels. It requires agents to search for potential buyers or locate plots for a specific buyer. The agents have knowledge of land use regulations, development costs, and local business trends. Another key asset of the services of land real estate agents is the negotiation skills in the corporate environment.
5. How does the typical land real estate agent commission on land sales works?
Whether you are selling or buying land, the land real estate agent commission is commonly one of the most expensive closing costs. It can vary depending on the property type and the estimated sale price.
Besides, since the agent fees for land sales are completely negotiable, the level of service and the type of land matter. For example, in places where vacant land is cheaper, the commission can go as high as 8% to 10% on a land for construction or a smaller tract of farmland.
If it is a buyer's market, the owner should consider subdividing the land before selling it. Accordingly, making several transactions rather than selling the plot to a single buyer can be even more lucrative. An experienced real estate agent can help you determine whether you will maximize your profit by subdividing the land or selling it as a total parcel.
Generally, commissions can go as high as 10% because of the kind of legwork that demands the type of land. For instance, land for mobile houses requires testing out the water, getting maps and septic and drainage information. In addition to the land real estate agent commission, you will still have to deal with other obligatory charges involved with any class of real estate transaction.
6. Why is it the home selling process faster using only one residential real estate agent?
All too commonly, there is a popular misconception about working with agents. Property sellers believe that the greater the number of residential real estate agents or platforms with which the house is listed, the fastest and smoother the selling process. However, it is actually the opposite notion of "less is more" the effective one, and here is why:
6.1. Agent motivation
An agent who knows an owner and gives them a unique listing is more likely to strive more to sell or rent a property. Advertising with multiple agents rather than spur them to find a buyer faster will demotivate them. It is likely they will question if it is worth putting effort into. This way, they might think another real estate agent will overtake them and end up with no commission at all.
6.2. Illusion of oversupply
When homes are listed many times, it gives the idea that there are more properties for sale than is the case. As a consequence, this perception of oversupply can drive selling prices lower. It is another reason to forget about duplicate adverts.
6.3. Illegal multiple listings
Besides the fact that multiple listings are impractical, they might be illegal. The real estate regulator in Dubai set a limit to sellers to use a maximum of three residential real estate agents simultaneously.
7. How can we help you sell a property through a real estate agent in Dubai?
Promoting your property is one of the most important parts of achieving a successful sale. At the same time, many sellers do not know how to properly market their property and attract numerous interested buyers.
At Connect Property, we are a team of specialists in marketing real estate with a record of excellent sales results. Our real estate agents will undertake the task of selling your property in no time. Besides, whether you are unsure if it is the appropriate moment to sell or purchase real estate, you can set up a consultation with any of our reliable estate agents or consult our guide for sellers.
With our intuitive interface, we provide a complete space for property owners, renters, and sellers to list their assets. Our search tools to make an efficient deal more likely. Potential purchasers can refine their research using filter results based on the property type, price, distinctive characteristics, and location. Additionally, we have a 24-hour support hotline available to assist with any possible doubts.
Would you like to sell a property through a real estate agent using Connect Property? Call us at our phone number, +971 43 316 688. We will answer all of your questions. Our representatives are also ready to provide you with any information you might need if you write us an email to contact@connectproperty.ae.
Are you looking for a job? Do not forget to visit thetalentpoint.com, where you can find numerous employers looking for your talent. No personal data sent to contact@thetalentpoint.com will be stored. Start applying!