The UAE is home to many spectacular-looking neighborhoods. Jumeirah Village Circle is a prime example of this, with a unique concept that gives Dubai's landscape a memorable feature. For anyone looking for property for sale in Dubai's JVC, there are many things to keep in mind before making this purchase.
In this article, we will give you everything you need to know regarding Jumeirah Village Circle. From the properties available to the things to consider before moving into this area, here is everything we will discuss:
1. What is the Jumeirah Village Circle in Dubai?
2. Which are the amenities of Jumeirah Village Circle?
3. Why you should consider investing in JVC?
4. Which are the most popular areas for buying properties in Jumeirah Village Circle?
5. What are the types of properties available in Jumeirah Village Circle?
6. What are some of the things to consider when moving to JVC?
7. How can Connect Property help you acquire a property in Jumeirah Village Circle in Dubai?
1. What is the Jumeirah Village Circle in Dubai?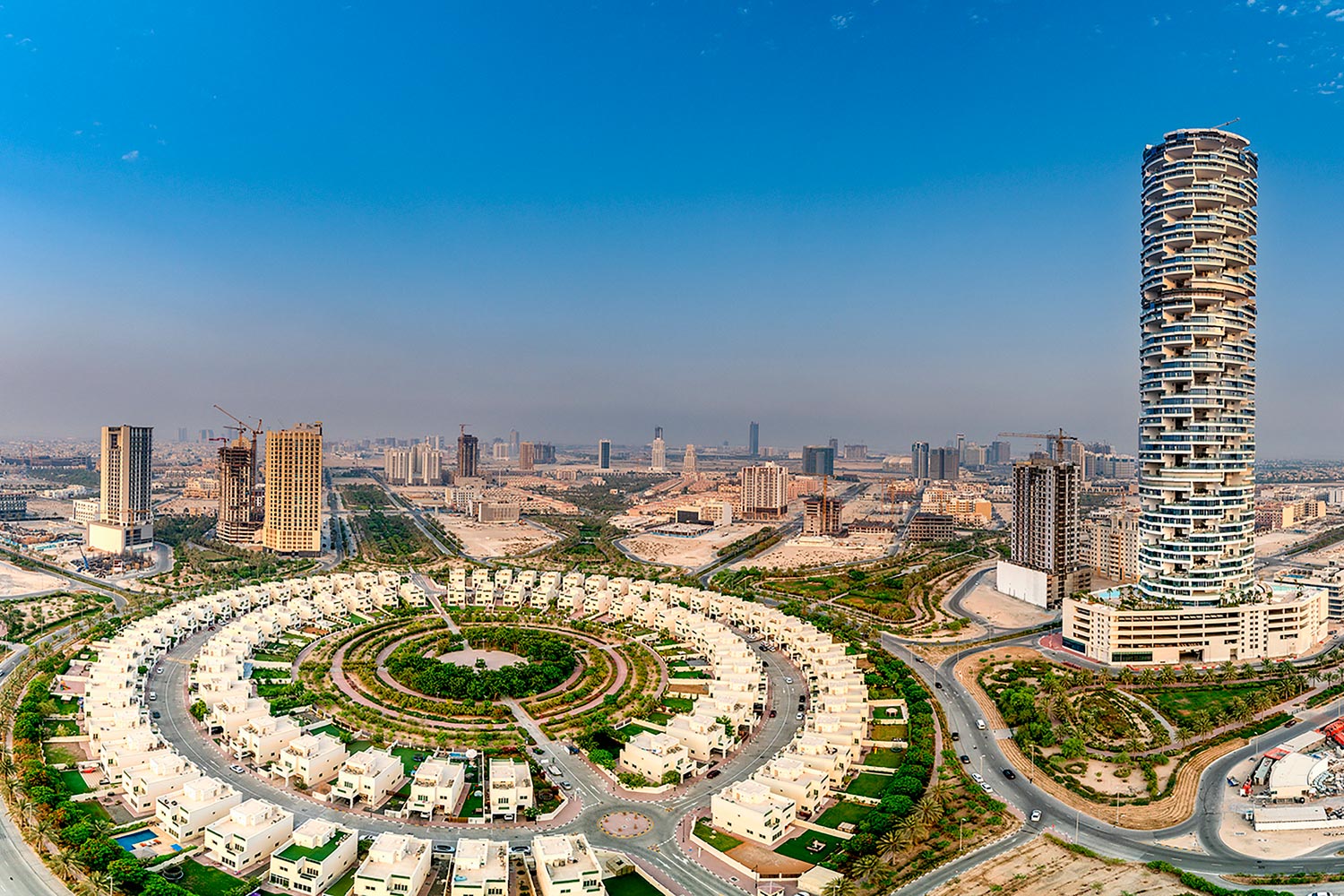 Ever since it first opened in 2005, Jumeirah Village Circle has been a remarkable success. With a peaceful environment surrounded by waterways, this housing development gives its residents calm for a fast-paced emirate such as Dubai. The neighborhood consists of a series of villas organized in a circular pattern, linked by its canals and green parks.
The types of property for sale in Dubai's JVC are mostly villas, mixing townhouses and apartments in some areas. The success of this community comes mostly from its affordable prices for apartments, as well as the excellent quality of the assets.
Another benefit JVC holds is its great location. With easy access to Dubai's most important areas, such as Dubai Marina, Al Barsha, and Jumeirah Beach Residence, the properties here shine for their excellent proximity to key places. Other important landmarks like the Burj Khalifa, Mall of Emirates, and Burj Al Arab are only a 20-minute drive away.
It also features the Circle Mall, which provides visitors with 235 shops, a supermarket, restaurants, cafes, a food court, and even a health clinic. Residents can also enjoy more than 30 landscaped parks, with a great amount of open space to enjoy recreational activities. Undoubtedly, Jumeirah Village Circle is very complete in terms of services and real estate options.
2. Which are the amenities of Jumeirah Village Circle?
The main thing that draws the attention of individuals towards JVC is the possibility to invest in property for sale without spending too much. Jumeirah Village Circle's amenities include shops and convenience stores scattered all over the area. A Choithrams supermarket, children's play areas, gymnasiums, mosques, schools, and trails for jogging, are some of the most common amenities you will find throughout the region.
The Circle Mall also has its special benefits, with a new community club located on top of the structure. It features a pool, restaurant complex and sports on the mall's roof. This club, called the JVC Club, will include a 300-seat restaurant, swimming pool with a sundeck, tennis courts, gymnasiums and carefully crafted gardens. These amenities are accompanied by outstanding views of the main community park, placing it among the most remarkable areas of Dubai.
Throughout the parks in JVC, you can also find many other activities. Sports such as football and cricket are popular within the community, as well as more swimming pools and tennis courts. For those that like to walk or bike through the community, dedicated trails can be found throughout the parks. All of this, added to the children's play areas and the pet-friendly rules of the community make Jumeirah Village Circle a welcoming place to look for property for sale.
3. Why you should consider investing in JVC?
Jumeirah Village Circle is an ideal location for families looking forward to getting away from the dynamic lifestyle of Dubai. This community is equipped with abundant amenities and caters to its residents' demands. In such a way, the properties for sale in JVC Dubai keep attracting an equal combination of families, young pairs, and singles. There are various reasons that individuals should take into consideration at deciding on investing in Jumeirah Village Circle.
3.1. Impressive location
Finding a great location is essential when choosing any property for sale. JVC is strategically positioned for easy access to the most popular attractions and prime transportation hubs in Dubai. Through the major artillery roads such as Al Khail Road or Sheikh Zayed Road, you can rapidly access prominent communities like Dubai Marina and Palm Jumeirah.
3.2. Family-friendly oriented
Whether you are planning to find a home for sale in JVC Dubai for you or your family, you will encounter a convenient and secure lifestyle. It is a community especially suited for the whole family. It offers an excellent range of facilities, green spaces and distinctive architecture making it noticeable different from other neighborhoods.
3.3. Economic attractiveness
In 2020, Jumeirah Village Circle registered the third-highest sales for ready and off-plan residential properties. It also follows second to the areas of Dubai Marina and Downtown Dubai, showing its popularity among real estate investors. In addition, properties for sale are relatively affordable and offer attractive returns of investment compared to other popular communities.
3.4. Shopping and entertainment options
The community itself features an extensive array of entertainment and shopping destinations. Since the opening of the Circle Mall, the residents can easily enjoy even further access to new community retail shops, great cafés, and fine dining restaurants.
4. Which are the most popular areas for buying properties in Jumeirah Village Circle?
The properties for sale in this location deliver a fascinating mix of urban residential opportunities to the vast population of Dubai. Besides, a quarter of the neighborhood is still uninhabited, which means that brand-new upcoming projects are coming soon.
According to statistical data, Diamond Views is the most popular area for both renting and buying property for sale in Dubai's JVC. The community features townhouses that come in 3 to 5-bedroom configurations, studios, and 1-bedroom apartments in great demand. It stands outs with its mediterranean style combined with a natural theme. Being near Hessa Street, this area provides many housing residential properties for rent with a phenomenal range of facilities and services. For that reason, it is ideal for families and helps individuals experience a quality residence.
Following the community popularity range, Seasons Community is the second most prominent featuring four groups of modern townhouses and apartments. It is one of the prime buildings to acquire apartments for sale in JVC Dubai, rangingfrom 1 to 2-room units. The rental costs for apartments start from AED 25k per year. Also, those searching for private residences can select from the 4-bedrooms townhouses with leases starting from AED 74k. The properties in this sub-community have contemporary architecture and an ethnic lifestyle. Additionally, it has plenty of fascinating restaurants, cafés, swimming pools, and fitness areas for its occupants.
Succeeding third in this category is Oxford Residence. It is comprised of ready-to-move flats, and studio apartments, with a competitively priced of the latter at AED 400k. Moreover, property investors looking to invest in one of the studio apartments for sale in JVC Dubai can review projects such asBloom Towers, Reef Residence, and Belgravia Square.
5. What are the types of properties available in Jumeirah Village Circle?
Jumeirah Village Circle contains beyond 2,000 residential properties including townhouses, villas, and apartments. The factors such as the style, size, and quality of the structures vary concerning the individual developer.
The apartments for sale in Jumeirah Village Circle are presented in studios, with 1 to 3-bedroom configurations, being the most economical options. The studio apartments have a singular room that functions as a kitchen, dining hall, bedroom, and family room. Though, in this kind of apartment solely the bathroom is divided by walls.
Individuals searching for more spacious rooms considering the needs of their whole family can purchase either a 2-bedroom or 3-bedroom property for sale in Dubai's JVC. Also, for those who prefer to live in roof-top homes with a view, captivating 2 to 4-bedroom penthouses are purchasable in this community.
All the apartment units in Jumeirah Village Circle have a private terrace or balcony and set-in wardrobe, air conditioning, and a heating system. The majority of the apartments in the community share amenities and facilities. For instance, they have gyms, laundry facilities, saunas, swimming pools, children's playgrounds, barbecue areas, covered car parking, and steam rooms. It also offers 24-hour security with CCTV, high-velocity elevators, and convenient garbage disposal on all floors.
In case some individuals are interested in looking for more privacy and spaciousness, there are many affordable villas and townhouses. In fact, a property for sale in Dubai's JVC is ranked amongst the best in the city. Moreover, the villas of this community offer a broad range of facilities such as landscaped gardens, storage rooms, spacious backyards, CCTV security, maid's room, and air conditioning units.
6. What are some of the things to consider when moving to JVC?
There are a couple of things you need to know at the moment of considering moving to Jumeirah Village Circle. Whether you are a skilled investor or acquiring a property for sale for the first time, it is essential you do your due diligence and make the right questions. For this reason, it is recommended to hire a well-known and trustworthy real estate agency in Dubai.
6.1. Confusion about the area
This is one of the most perplexing aspects of the community, mostly if you are new in Dubai. The prime location is not really in Jumeirah, even though the name suggests it.
6.2. Lack of metro access
Jumeirah Village Circle currently has no connection to the metro line. As a result, residents need to rely on the bus route or taxis. Catching the bus headed to the Mall of the Emirates and then took the metro. However, there are near-future plans for an expansion to provide to the passengers in the area.
6.3. Construction in progress
Jumeirah Village Circle is still developing, so the area has numerous off-plan developments and others housing projects. The constant noise and dust of the construction can be a nuisance for many families. But once those are finished, there will be more amenities in the community. Therefore, evaluate if this will affect significantly your decision to rent or buy properties in this community.
7. How can Connect Property help you acquire a property in Jumeirah Village Circle in Dubai?
With Connect Property, you can find your ideal home anywhere in the UAE. As an online real estate marketplace, our goal is to provide property owners and renters with a portal to list their assets. In the same way, individuals looking for property for sale can easily find it through our detailed listings.
With our search filters, you can look up properties by location, price and characteristics. If you are looking for property for sale in Dubai's JVC or any other area of the UAE, you can easily find the best results and make the home-searching process much faster. Our intuitive interface allows for simpler navigation that makes purchasing a property more accessible for everyone.
If you still have questions about the ideal property for you, our 24/7 support hotline is ready to help you with any question you may have. We can guarantee a satisfactory experience as you find a new home to live in or a new investment property. Find the house of your dreams today with us.
Would you like to purchase a property in Jumeirah Village Circle using Connect Property? Make sure to call our phone number, +97143316688, where we can help you with any questions regarding the steps to purchase a property. Contact us through email, contact@connectproperty.ae, for additional assistance by one of our representatives.
Are you looking for a job? You can send your CV to thetalentpoint.com. Any documents you send to contact@thetalentpoint.com are not being stored.